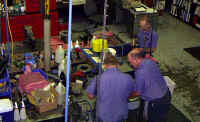 Premier Hydraulic Services provides repair for virtually any hydraulic pumps, motors, control valves, and transmissions. We serve all industries, large or small. Regardless of what equipment you operate – industrial, mobile, agriculture, construction – the premier hydraulic service team can provide solutions to handle all you hydraulic needs.
All hydraulic units received in our facility for repair are completely disassembled and cleaned for a thorough inspection. Next, all precision fits are checked for tolerances. Worn, broken or missing parts are listed for replacement. After a complete evaluation, one of our customer service specialist will provide you with a competitive quotation for price of the repair. All or repairs are quoted with comparison pricing of new and remanufactured product when available. This allows you to make the best choice for your specific needs.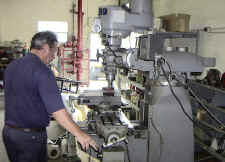 After your approval for us to proceed, the unit to be repaired is cleaned again, tolerances are re-verified and the unit is made ready for necessary repairs. All Contact surfaces are reconditioned or replaced. New seals, bearings, and replacement parts are then installed by our certified technicians.
Premier Hydraulic Services perform tests to ensure that every repaired pump meets or exceeds OEM
specifications through a complete range of pressures to 5,000 psi and flows to 150 gpm.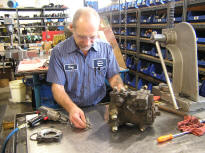 We are an authorized QA service center for Eaton/Vickers products. Specific equipment, training, and certification must be maintained and measured by the performance of the repair. These standards are part of each repair. And service we will provide to you.
Our 12 month warranty covers our workmanship, and/or failures due to defective parts/materials.