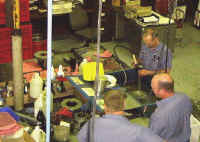 At Premier Hydraulic Services cylinder repair division our mechanics are exceptionally skilled to provide service on all brands of mobile cylinders. Our cylinder repair division can rebuild cylinders up to 16" bores and up to 14' in length. We rebuild hydraulic single acting, double acting, telescopic, pneumatic, rodless and many other types of cylinders. We have a complete machine shop with large inventory of rods, tubes, and gland materials for minimum down time. Where a part proves to be obsolete or beyond repair or reconditioning, our machine ship can reduce cost and create fast turnaround by manufacturing replacements that meet or exceed OEM specs.
We offer free quotes, and all repairs are quoted to the customer with new comparison pricing, where available, and lead-times to meet your needs.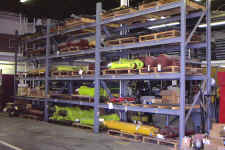 No matter the product brand or type, repairs are evaluated, assembled and tested to OEM specifications, unless otherwise stated or requested by the customer. A test report is supplied with each repair, to insure you, the customer, of quality performance.
We also have a large selection of stock of exchange components for Euclid, Terex, Cat and Komatsu mobile equipment.
Utilization of our rebuild exchange programs, unit repair service capabilities and our "reman exchange" program offers you the optimum of choices for maintaining your mobile equipment.