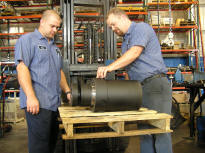 To compliment your pump, motor, or transmission repair, Premier Hydraulic Services offers repairs on most types of valves. If your valve is beyond repair, we can also supply new valves.
The following types of valves we repair are: relief, directional control, flow control, pressure control, deceleration, shut off, check, unloading, sequence, sectional, cartridge, mono-block, and stackable modules.
An example of the brands we service are: Vickers/Eaton, Rexroth, Racine, and Denison.
We also have sources that can take care of your needs for proportional and servo valve repair.